ELECRAMA 2016 IS TO OPEN
Publish Time:
Author: Site Editor
Visit: 578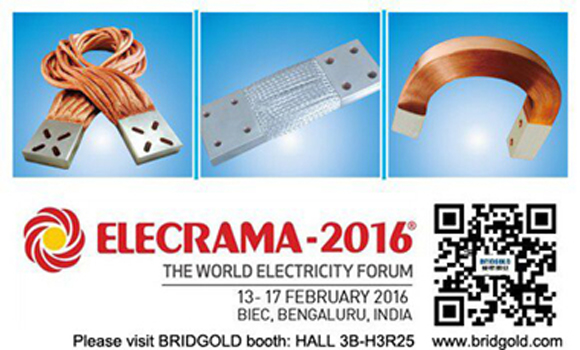 ELECRAMA 2016, the biggest show of the world electricity, brings together the complete spectrum of solutions that
powers the planet. Featuring not just equipment & technology, but peerless thought leadership platforms for everything
electric - from technical conferences to industry summits. ELECRAMA 2016 is going to be held in BIEC, BENGALURU, INDIA
from February 13th to 17th.
BRIDGOLD will be there. BRIDGOLD is a professional manufacturer of Flexible Copper Connectors for electrical conduction and grounding connection.
Meet us there for more information about flexible copper connectors.
Date: February 13-17, 2016
Address: BIEC, BENGALURU, INDIA
Booth: Hall 3B-H3R25